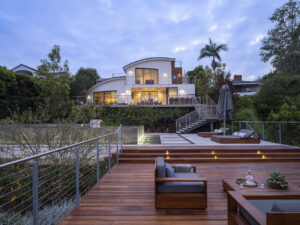 California has much to offer when it comes to natural beauty. The best way to enjoy the gorgeous views around you is to invest in a residential landscape that fits in with it seamlessly and allows you to sit outside and soak it all in.
At Ecocentrix Landscape Architecture, our passion is sculpting landscapes that embody California's organic beauty and support your lifestyle. As the leading landscape architect in La Jolla, CA, we can design the perfect outdoor space for your home, no matter your style.
Our Luxury Landscape Design Firm in La Jolla, CA
With decades of combined experience creating resort-style residential exteriors behind them, our landscape architects are up for any job. We work with all types of homes, as well as mixed-use and hospitality properties.
Anything you can imagine for your landscape we can bring to life. Our luxury landscape design firm can incorporate any features you'd like into your outdoor space in La Jolla, including hardscapes and paving, kitchens and dining areas, pergolas and terraces, pools and hot tubs, water features, fireplaces, and beyond.
Types of Landscape Design & Architecture Common in La Jolla
Every homeowner is different when it comes to their personal preferences, style, and how they use their outdoor space. To accommodate our clients' unique visions, Ecocentrix specializes in many different types of landscape design, including:
Coastal landscaping
Seaside landscape design
Ocean view estate design
Waterfront landscape architecture
Beachfront landscapes
Panoramic view landscapes
Infinity pool design
Outdoor kitchen design
Water feature design
Work with a landscape architect in La Jolla who approaches every project with a collaborative and creative process that's sure to leave you satisfied. Contact Ecocentrix Landscape Architecture to discuss your landscape design needs today!