Meadowridge Way
Encino, California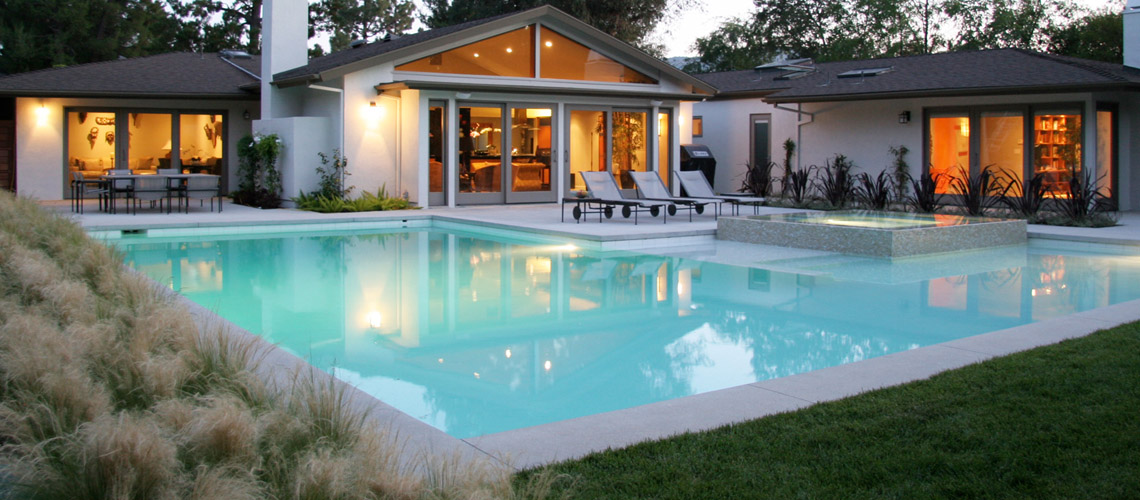 LOCATION:
Encino, California
This home's architecture is modest in its clean lined design, yet hosts fabulous contemporary interiors. The Client desired that the new garden and hardscape renovations would complement the interior design and make for an inviting graphic, sculptural, and spa-like experience while they entertain guests in their much enhanced home.
When one enters the home's open floor plan, they look through to the rear yard. They are then confronted by a brimming raised spa within the pool that glistens with iridescent glass tile like a "Jewel Box", and also emanates a beautiful trickling sound throughout the tranquil garden. The Western Sky with colorful sunsets reflects from the generous surface of this luxurious pool. A simple restrained palette of hard and soft materials links this wonderful watery space to the icy blue plant colors in the front entry-dining garden.
Whereas much of the original paving throughout the site was patterned in red brick, its new concrete replacement provides powerfully controlled lines and forms strong architectural planes in this landscape.
Plants are massed together to "paint" their conspicuous locations, and boast sculptural forms that are quite dramatic each.
The use of the "Mexican Feather Grass" in its long 100-foot swath beside the pool is intended to catch the delicate breeze and evoke a sense of cooling even on the hottest days. Much like that of native dune grasses that sway by the sea, their movement is quite captivating and evokes relaxation whether when viewed from inside the home or laying poolside. The combination of these sensuous grasses and inviting blue pool is quite iconic in this 1950's retro inspired landscape. A simple and gracious lawn wraps the backside of the pool like a carpeted room, with a singular purple flowering Jacaranda Tree as its grace note. The tree punctuates the lawn on bias to the spa, whose gesture also mimics the pool-enveloped spa.
The entry courtyard-dining garden explores a cool color theme with blue succulents, blue grasses, a punch of deep maroon tree foliage, and purple flowering vines woven on architectural stainless steel hung lattices. Specimen plants here are used as living sculptures that are backlit against a curved wall. This bold garden is theatrical with this being the main stage located immediately adjacent to the formal dining room for all guests to revel in. The tree in this radial layout is kin to the needle on a phonograph and is placed carefully on its outermost ring.
Constructed glass and lumber gates, fixed panels, and garage door are a contemporized interpretation of craftsman style furniture. They intentionally pair with a few of the key interior pieces in the Owner's collection and help renew the exterior architecture.

Design Style