Pinyon Street
Palm Desert, California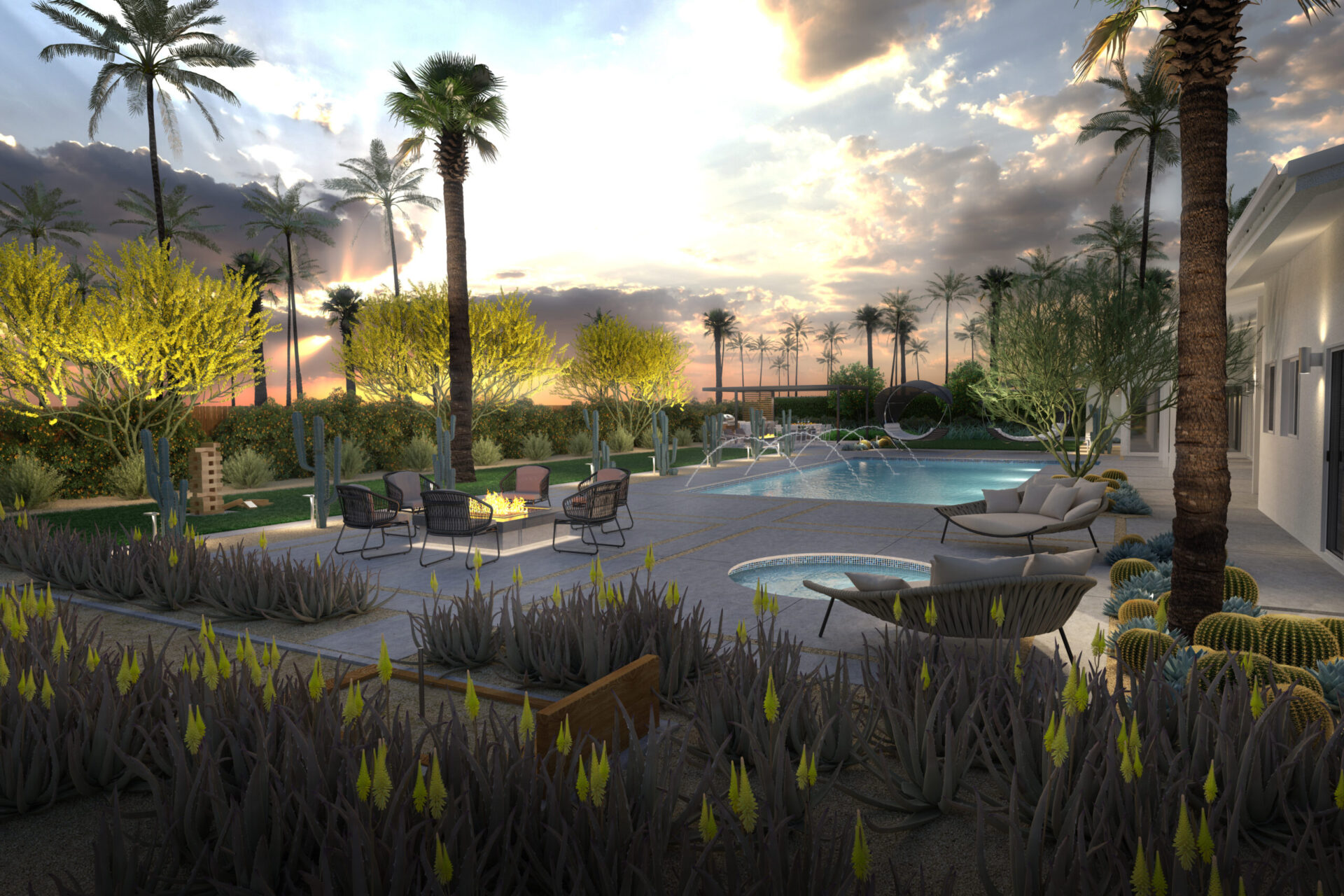 LOCATION:
Palm Desert, California
In the estate area of South Palm Desert, just near the El Paseo Shopping district (https://elpaseocatalogue.com), this 50's mid-century modern is a sprawling example of architecture taking advantage of a site's width. The vastness is felt immediately upon entering the newly purchased home, emphasized by a large, open floor plan boasting several sets of floor-to-ceiling windows and sliders with overviews out onto the expansive rear yard of the 0.5 acre lot.
The Client desired to reduce the ample lawn she inherited from the former owner, which we were all too eager to help minimize. The garish teal, poorly aligned breeze block walls and salt-finished concrete were begging to be scraped. 
Rehabbing the existing pool and spa revamped this yard a-la tabula rasa (blank slate), and new paving rejuvenated the tired, well-used patio to create strong, refreshing lines. Looking out across the now lustrous pool, distant mountain views dressed in evergreen up to their crowns of glistening white snow kiss the infinite blue glass sky. The babbling pool fountain jets infuse the natural garden sounds with the tranquility of the desert stillness. Beyond the refreshing water is an outdoor shower to rinse the day away.
Wonder and functionality meet to play along the lush play lawn complete with expanded lounging areas and sandy horseshoe pits. Chilled nights are set aglow by the fierce embers of the fire pit.
Family function lives at the soul of this Client's vision, so we created a space to gather and enjoy. A simply, yet beautiful trellis covers the outdoor kitchen, bar, and dining area, enriching the space and morphing it into a dreamy, storybook sanctuary.
A tasteful, subdued palette of hard and soft materials blends the distinct architectural planes with the immenseness of the landscape. Citrus species, layered perennials and desert specimens paint the muted backdrop.
Become enamored with our dreamy desert Mesa Modern project.
Or get complex with our impressive Hemorsa Beach Power Street project.