Trenton Drive
Beverly Hills, California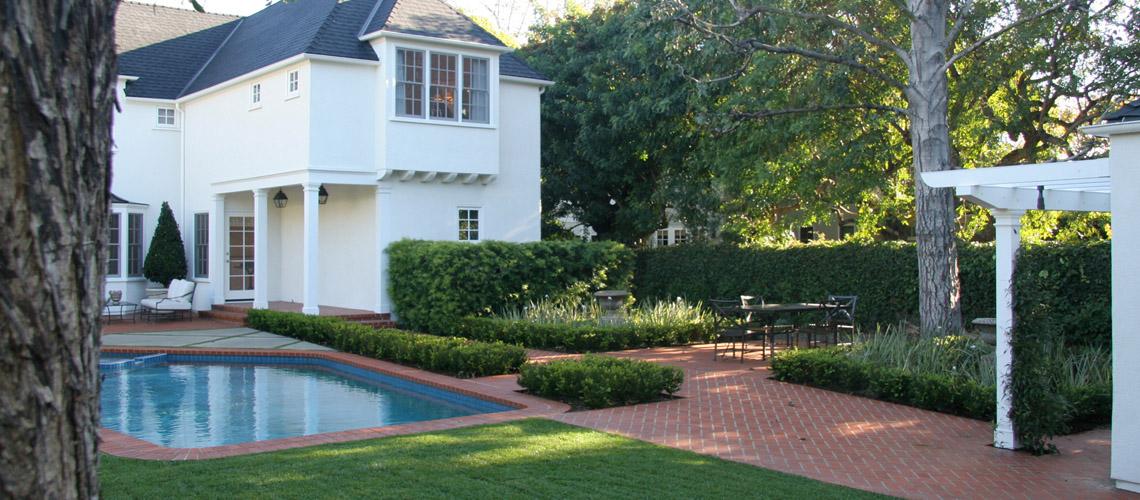 LOCATION:
Beverly Hills, California
We were charged with reinventing the gardens for this Colonial Revival style home in Beverly Hills, California. What was perhaps our greatest challenge was to orient a clean-lined, classical estate garden around an existing oddly shaped swimming pool. By incorporating herringbone and basket weaved brick patterns, along with subtle inclusion of 'X' patterns in other paved details and site accessories, we were able to fashion this pool into something of "focal piece". Clipped boxwood borders and tall Podocarpus gracillior hedges provide containment to other floral riches within the garden.
While classical by order, there is a distinct use of plant materials that within the boxwood edged planter beds is still very "California" by nature. There is a purposeful overlay of contemporary space making in the creation of this classical garden. Clean lines and distinct forms strongly cue to the orthogonal architecture. The "dogleg" shaped pool was a hurdle that was overcome by strong design allegiance to symmetry and axial circulation through the garden.
Casual crushed gravel pathways relent a wonderful sound under foot, and carry through to the dining garden. Brick paving details were used in other areas to create intended dialogue with lawn planted joints found in concrete paving and also to mimic the branded 'X' on the black enamel painted Versailles planters.
Night lighted existing trees are majestic in this garden and equally so is the moonlight effect cast from high-mounted fixtures in their uppermost canopies. Path lighting is abundant yet subtly strikes a balanced and even wash across the more highly trafficked areas.
Iron privacy rails adorn the tops of white washed brick walls, while a trellis, fences, and gates, are boldly crafted from milled lumber. They all are fashioned to reflect and enhance the inherent details found in this Classical Beverly Hills home's architecture. The context of built and living details is congruent with its architecture and ground this home that is steeped in rich history and tradition.
"We enjoyed working with John Feldman. His design scheme met our goals and produced the look we were trying to achieve. He was very professional, hands-on and the project went very smoothly. We would enjoy working with him again."
Patrick and Mari McAlister
Beverly Hills, CA

Design Style