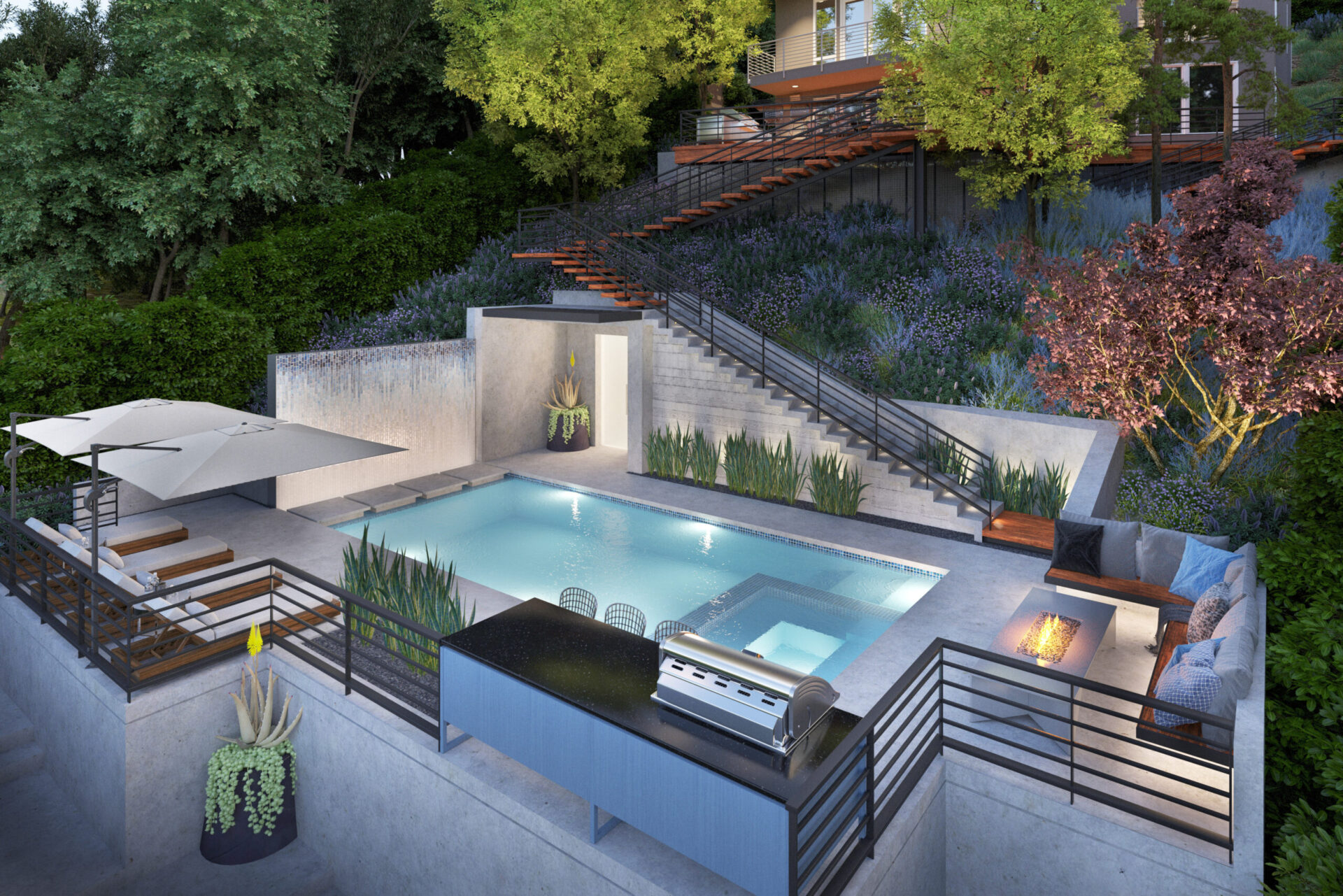 Ensconced upon the crest of Pacific Palisades hillside sits this three-floor home, perched above the never-before-developed downslope. A culmination of the limited construction access and the challenge of design, this property is anything other than optimum for those who are faint of heart.
Elevating Image Below Street Level
With two floors below street level, we found this site's potential imaginably infinite, albeit tangibly bound by some rather stringent LA City code restrictions. We have created the maximum usable space between the new retaining walls and inside of the governing setbacks.
A 20-foot differential descends from the existing decks at the lower floor of the home to the outdoor space that we have created with the maximum usable space between new retaining walls and inside of the governing setbacks.
Budgeting Imaginable Possibilities and Practical Applications
We were tasked with designing a pool and spa, fire and water features, outdoor kitchen, and a bathroom/changing room, all while maintaining as much of an existing deck as possible. Given one does not grade earth around mature trees, we had to work within the confines of even tighter parameters to preserve the existing Himalayan Cedars.
This particular site did not bode for an infinity pool that would loom high above the downhill slopes. The design feature came at great expense, and at the great expense of all the other features that we were instead able to include.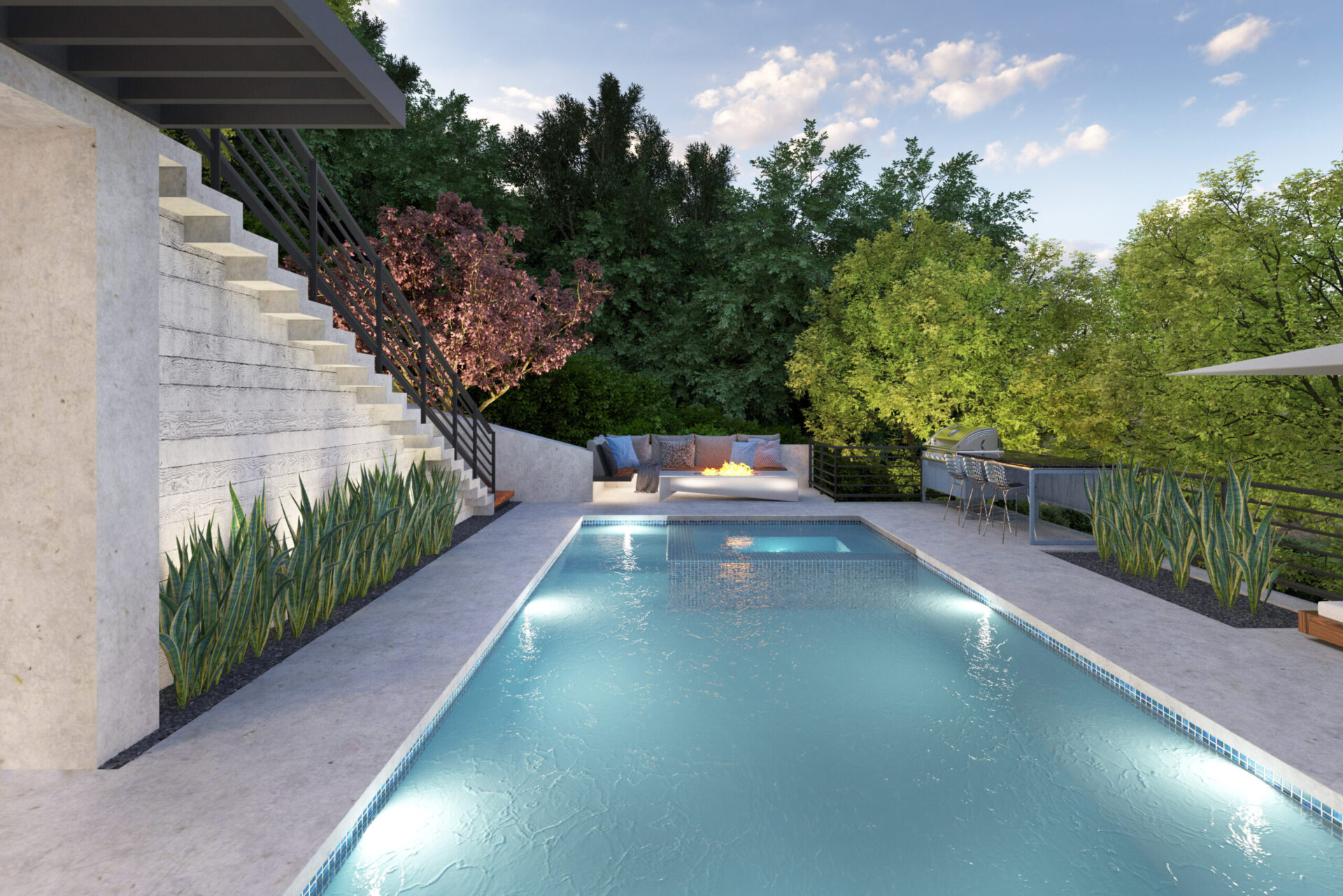 Design Dynamics and Vibrant Views
Views open Easterly and downslope when peering over the rail of the existing deck from the lowest living level. The open riser stairs float above a cascade of vegetation, descending beautifully down the switchback to the lower amenities level. The articulation of the 10-foot tall vertical retained upslope was key, as was creating a sense of depth by burying the bathroom into the slope.
This allows for the otherwise ominous set of verticals to become less looming, while capturing a sunny and spacious resort-like feel of the vast usable space.
The push and pull of wall planes, textural and shadows play into a dynamic interlude of features in this strong, architecturally compelling landscape. We wanted to be sure to pack it full of everything one may need for hours of enjoyment. As the sunset glistens in the reflection of the water wall capping the end of the pool, the ascension up the 40 stairs leaves only the memory of the day's good times behind.
A true staycation experience.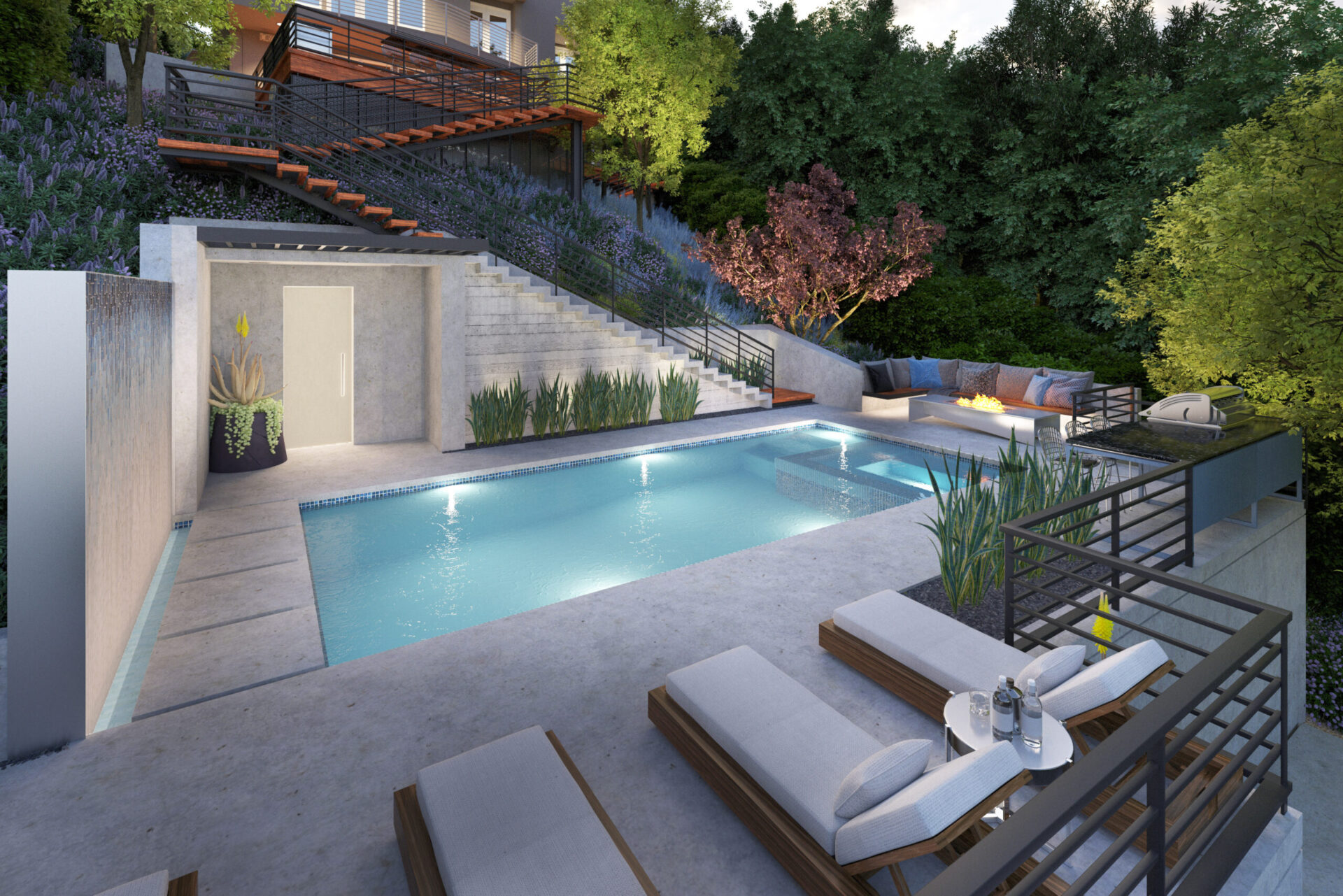 Want to read more about how we overcome the intricacies of Hillside Estates?
Check out more of our work on our Complex Hillside Development page.