This post is part of my "Bucket List" series of Hidden Gems in L.A. Follow along as I explore and share some of my favorite sources of inspiration around our county. See the entire series here.
One of the many ways that Los Angeles shines as one of the greatest cities in the country is in neon. Throughout the mid-20th century, LA was considered to be the neon capital of the world. Glowing signs in bright and eye-catching colors were everywhere, showing LA off as the epitome of cool. But as time went on, neon went out of fashion. People started to associate neon with stripclubs, sex stores, and liquor stores. As many of the beautiful neon signs of LA started to breakdown, they were replaced with less impressive and somewhat subtler fixtures. Thankfully, neon never went away entirely. Today, it's finally come back into style and some of the most iconic and beautiful neon signs in LA are gaining new attention, drawing eyes to them like moths to a flame! It's time to learn about some of the brightest hidden gems in all of Los Angeles, the neon signs of LA!
Museum of Neon Art
If you want proof about the beauty of neon, you need look no further than the Museum of Neon Art in Glendale. There, neon is celebrated as an art form through exhibits and the preservation of historically significant neon signs. They also offer one of my favorite night time experiences in LA: the Neon Cruise.
The Neon Cruise is a professional nighttime bus tour of LA, exploring the neon side of our city's history. You will be loaded onto a converted double-decker bus (just like the ones in London, England), and be paraded around LA neon hotspots like the Los Angeles Theatre or the Hollywood and Vine Restaurant. I personally believe that the Neon Cruise is one of LA's hidden tourist gems and I recommend that even long-time residents take the tour. You may see an entirely new side of our city. A neon one!
BENT: A Group Neon Show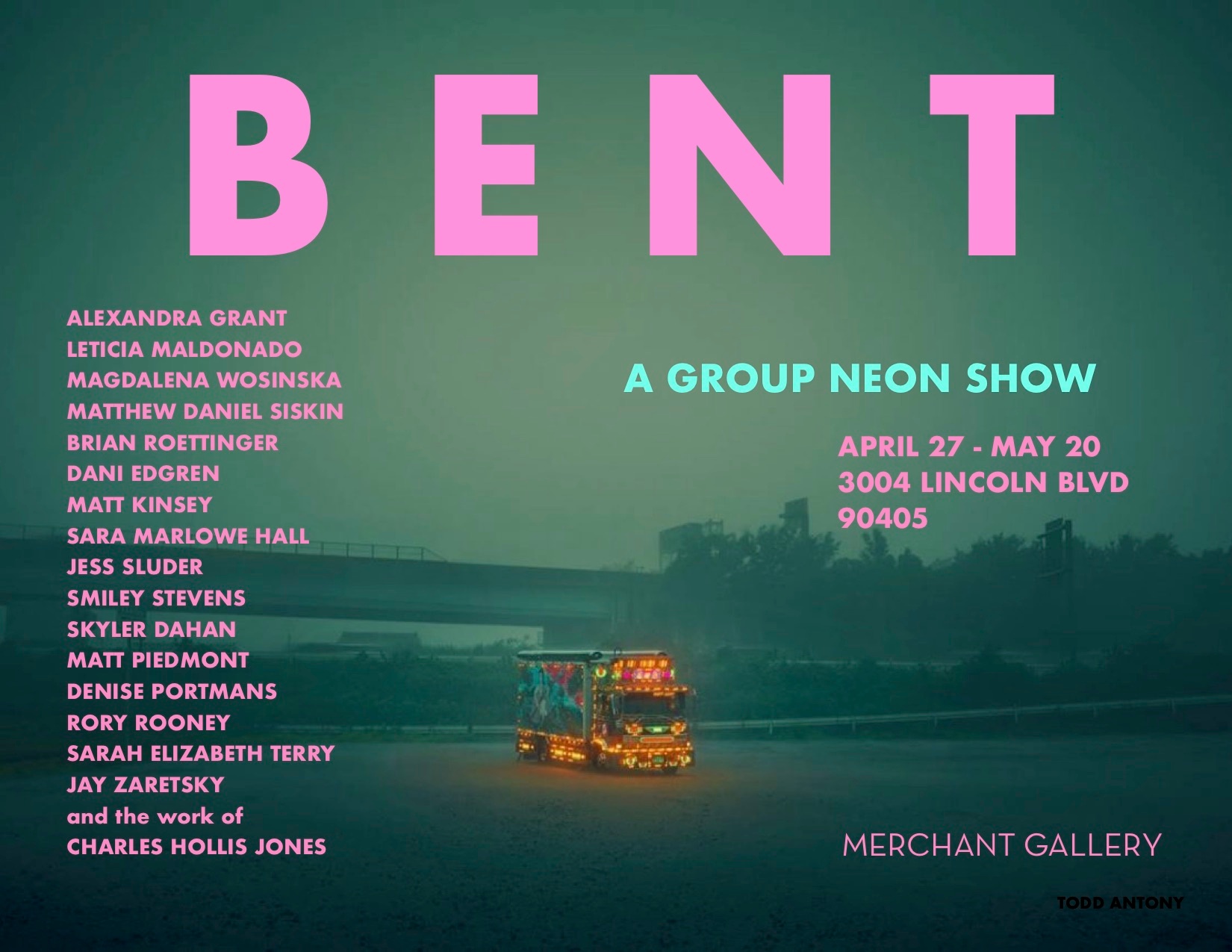 Some people say that neon is an art form. If you want to see some of the best examples of neon art in the world, you'll want to visit the Merchant Gallery's art show, BENT, now running until May 20th. There, you will see artistic works in neon from a wide range of artists, including a former staff writer from SNL, Beyonce's website designer, and living legend Charles Hollis Jones.
The folks at the Merchant Gallery feel that neon is more than just a revived trend. It has both a nostalgic and futuristic quality to it. It's warm and inviting, but cold and digital, at the exact same time. One of the organizers and artists involved in the show, Sara Marlowe Hall, says, "There's something really satisfying about the color and the glow of neon, the comic quality of it as well as the deep design side of it all, it's a cultural emblem as well as a personal one." I agree entirely with this assessment! Every exhibit at BENT is both a neon work of art and a science experiment, and every one will will capture your imagination.
The Merchant Gallery regularly features contemporary art, sculptures, objects, rugs, and other art projects, all curated by MERCHANT. The gallery rotates shows ever month, each showcasing a broad variety of different art. They also happen to be right next door to Ecocentrix. They are fabulous neighbors, I don't mind telling you, and I am really excited about this exhibit and its recent opening!
If you'd like to learn more about BENT and the Merchant Gallery, you can visit their website here.
Clifton's Facade
Boy, do I love a good building facade! At Clifton's Cafeteria, you will not only find the oldest cafeteria style restaurant in America, you will also find some of the world's oldest operating neon lights. These have been running since 1935 and have NEVER been turned off. Of course, to get the full effect, you really need to see them at night!
Universal Citywalk
Although this recommendation might be a little more "tourist trappy" than my usual, it really is one of the best showcases of neon lights in all of LA. Many of the neon signs found here were restored by the Museum of Neon Art and are quickly recognizable to the eye. Although considerably less historically relevant, you will also see every fast food brand in America get in on the glowing action with neon versions of their famous logos.
Santa Monica Pier
It's difficult to imagine a more welcoming sight than the neon archway above the Santa Monica Pier bridge. This iconic neon sign promises a yacht harbor, sport fishing, and cafes, but that's just the beginning of the promised thrills and excitement!
The pier is over 100 years old, having been built in 1909 and features a world-famous solar powered Ferris wheel, along with a carousel that has been in operation since the pier first opened. You can find neon signs everywhere on the pier, reflecting the excitement that guests feel as they enjoy everything the Pacific Park amusement park has to offer.
Ships Coffee Shop
Ok, this one is a bit of a cheat as it no longer exists, but I had to include it particularly since it was an icon I looked forward to seeing as a kid on the way to and from my grandparents home just blocks away. Those growing up in LA throughout the latter-half of the 20th century will remember Ships Coffee Shops. These neon adorned diners treated both locals and tourists to some of the best classic American fast food cuisine ever made. There was a toaster on every table, because who doesn't love toast? Every Ships location was tragically closed in the 90s, but my memories of the food and neon linger to this day.
It's funny how signs that are so bright and eye-catching could possibly be considered hidden gems, hiding in plain sight. By learning about the neon signs of LA, we are learning about ourselves and our beloved city. As a lover of Los Angeles, I can't help but love the sight of neon. That's one of the reasons why Ecocentrix will soon be partnering up with the Museum of Neon Art to hold our own Neon Cruise, with our own spin on it. We can't wait to give you all of the details, so please stay tuned!