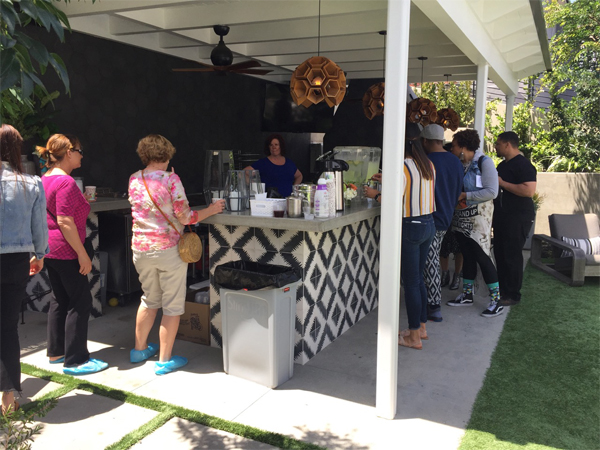 The 46th Annual Sophisticated Snoop Home Tour was quite a success, and so much fun! The name says it all, really, because who doesn't enjoy a "hall pass" to peek into our neighbors' style and see how professionally designed homes measure up?
We were thrilled by the turnout of hundreds of people to our project, and somewhat giddy to overhear whispers and shouts of positive feedback as we approached our client's home, and also as we were on-site to answer questions and discuss the undertaking of this complex hillside site design.
It was particularly interesting and exciting, to me, to observe how perceptive attendees were about the scale of the design. I heard comments like "this property is so big but every area feels so comfortable and purposeful" and "this home feels really liveable with the perfect indoor/outdoor spaces." They couldn't have been more spot on in terms of our approach.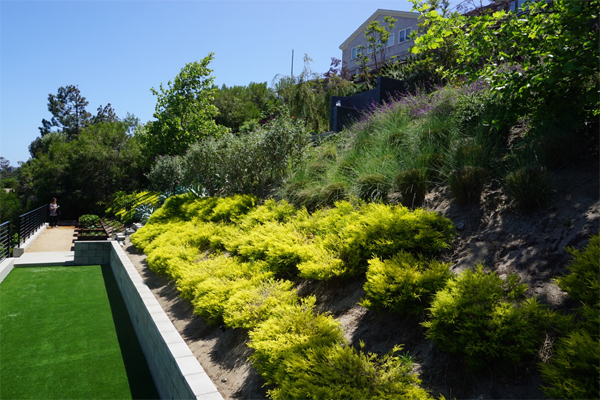 Stepping back in to the start…our client's 1950's house and site were due for a much-deserved renovation. Our client had worn their property well over 15 years, having raising their young family there. The full potential of this 1/2 hillside site in Hermosa and its ranch-like home had never been fully realized. The rear half of the property remained fallow behind the house and inaccessible behind an old retaining wall that the former home abutted.
While massing of the original home was largely kept the same, its eclectic contemporary facelift and interiors would lend themselves well to our interpretation of their connected exterior spaces and the myriad of changes throughout the property we'd come to develop.
Most notably, the home is well used by this family of 6. Its cozy beach vibe is ideal for more intimate family gatherings and has plenty of spaces throughout the home and the exterior for personal retreat. And yet, it equally serves the fun nature of this fiercely social and celebratory family! We created several distinct zones, throughout 5 levels of the site, in order to achieve this!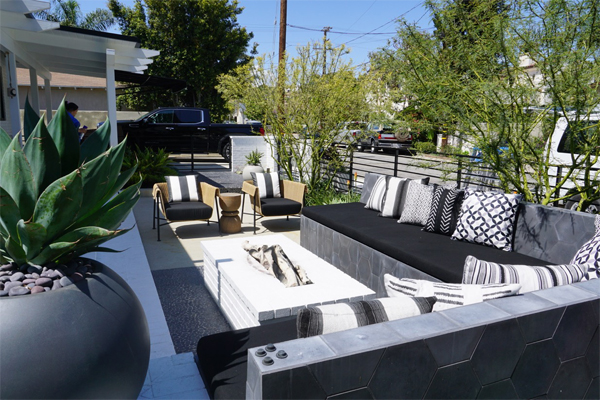 Upon arrival, the front yard bespeaks this family's warm hospitality. Open to the street, it's complete with a hanging daybed at the deep loggia, a fire pit surrounded by built-in seating in the forecourt with a juicy garden, and several detailed hardscape accents.
The "WOW" factor welcomes you at the house entry, when peering through the well-appointed great room to the multi level pool area. The pool area was an interesting "puzzle", in that it helps to resolve 3 different interior floor elevations, all of which descend into the multi-tiered space. A resort pool in Mexico, that the family fell in love with while vacationing, was our source of inspiration at home as well. With shallow, penny tiled Baja seating and deep plunge, the exterior walls of the pool are board-formed concrete capped with stone. Plants are still filling in, but include 4 spectacular young Tree Aloes. Lounge areas flank a sizeable spa and sit adjacent to a fire pit at the master bedroom.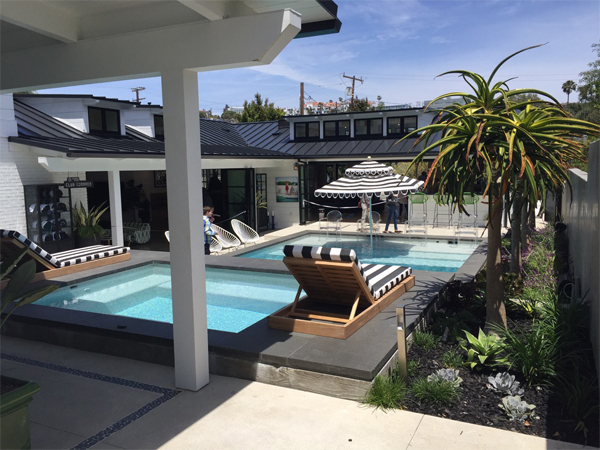 Accessible off the upper living areas through the center spline of the house, or a short walk up side-yard stairs, we begin to unveil the property that had formerly only been enjoyed by skunk families and overgrown thickets of coastal dune scrub. Our clients have serious design and culinary savvy, both by interest and profession. We of course had to bring our 'A' game to play alongside these 2 and the uber-talented design and contractor team who set the bar high. This level is host to a full commercial grade kitchen complete with pizza oven and bar. It has a vast synthetic turf play area that is often the setting for alfresco dining, games of corn hole, and much more. Forever we'd wanted to bring to our projects an outdoor theater experience, and on this one we did! From what looks like a large "birdhouse", is a projector which aims at a blank 10-foot tall section of retaining wall. This entertainment nook wouldn't be complete without a fire pit and seating niche.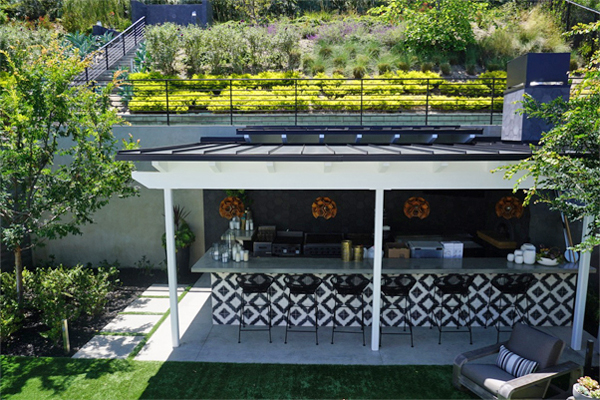 Atop a flight of stairs to the board formed podium that is aligned on the center of the home, you'll find a bocce' court to the right and custom forged corten steel containerized edible garden to the left.
A flight of concrete formed steps, inter-planted with small succulents, lands you at the highpoint/observation deck of the property. And, of course, it's furnished with a fire pit and seating niche! We designed and selected plants specifically tailored to the sandy slope and coastal conditions here. Complex hillsides like these are our specialty. Imagine how, without proper attention, every footprint or gust of wind that could send a slough of sand down the slope. Not in our world! The integrity of this hillside will remain beautifully intact.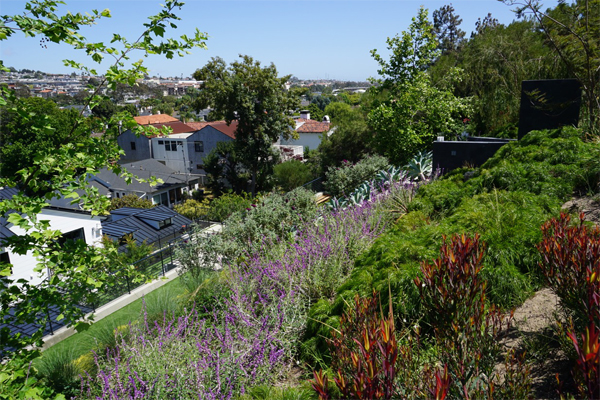 There's a beautiful inland panoramic view from here and across bands of varied plant materials that are alive with butterflies, and fingers crossed…no more skunk families.