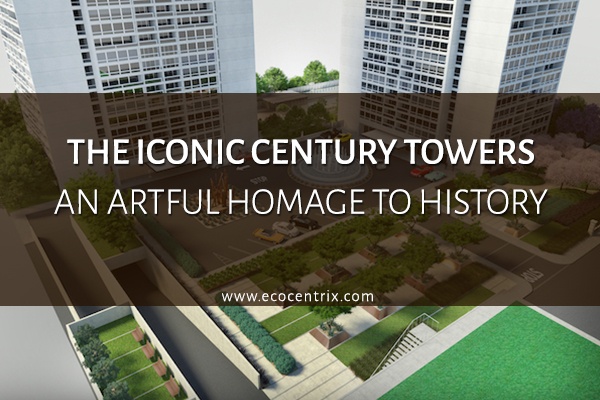 Few cities in the world can boast such a varied collection of iconic landmarks the way that Los Angeles can. From the Hollywood sign to Santa Monica Pier, Walt Disney Concert Hall and the Case Study Houses, there are so many universally recognizable "L.A." symbols.
We love that about this city. As diverse and widespread as the people who live here, cities within cities have emerged each with their own unique culture. L.A. may not be that old, but boy does it have stories to tell!
One of our favorite stories is, of course, about design. In 1961, the renowned architect Welton Becket began a project of transforming the old 20th Century Fox backlot studios into a thriving mini-city – aptly named "Century City." The multimillion dollar project was a mixed use residential, hotel and commercial hotspot.
Becket enlisted architect I.M. Pei (known most famously for the glass pyramid at Le Louvre) to design a luxury apartment complex, the Century Towers. The twin towers were the first major residential buildings in Century City, built over 2 acres which also makes them one of the largest residential properties in Los Angeles.
The residence has been home to countless celebrities and notable figures over the years, and like any iconic landmark, a filming location for movies and television shows. To name-drop a few – because of course you're wondering – Diana Ross, Michael Douglas & Catherine Zeta-Jones, Jack Benny and Karen Carpenter. The t.v. show Charlie's Angels was filmed here.
The towers were later converted into condominiums, which is how they stand today. That's where we come in. Ecocentrix was brought on earlier this year to help with the redesign of the property as it undergoes some (let's just say it, necessary) renovations. We have been passionately working with the team to pay homage to Pei and Becket while bringing this landmark up to date.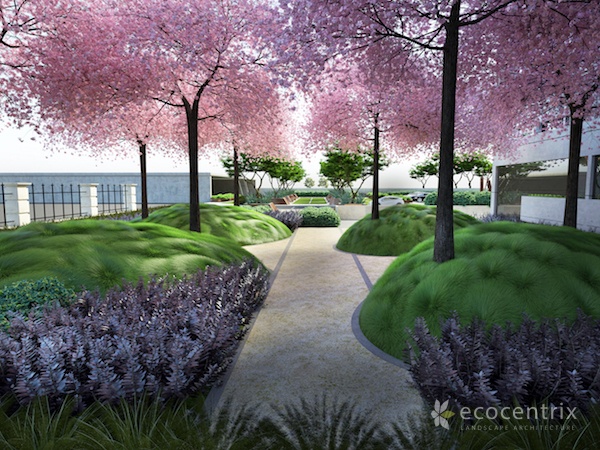 The residences have always been high-end, with a gated entrance, doorman and valet service. Luxury living includes a pool, tennis court, fitness center and sauna with various gardens and outdoor spaces.
Our concept for the property was influenced by the original mid-century styling of the buildings. We visualized minimal design elements with clean lines and clearly defined spaces. The goal is to elevate the experience at the ground level, as both active living and passive drive through areas, and to create a strong graphic that balances the 28 floor buildings towering above.
We are excited to share with you the exterior conceptual design of the iconic Century Towers.