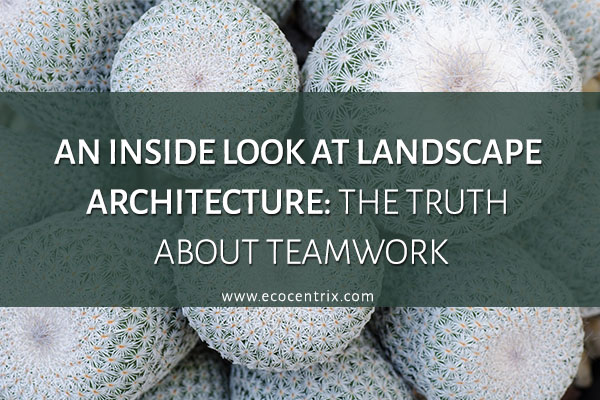 Interview by Linsi Brownson, Spark Collaborative
In Part 1 of my interview with John Feldman, the Principal of Ecocentrix Landscape Architecture, we talked a bit about form vs function and what makes landscape architecture important to design projects.  Today I want to know the dirty truth, ahem, the complications that commonly arise during a project and see how his team deals with them.
L: John, you mentioned that being a landscape architect means embracing the unique complications of a project.  What kinds of complications do you run into?
J: I think the biggest complication is bad communication within a project team. Large, projects come with a lot of people – architects, construction managers, interior designers, contractors, and often a handful of people connected to the client, like real-estate brokers, neighbors, etc.
Communication is key. Transparency is key.  A project team that works well together will produce a better, more unified result for the client.  And that's always my goal.  I have worked with professionals who had more concern about making "their mark" on the project than they did with producing a cohesive result.  When that happens, when egos get involved, the budget often gets blown and the client is rarely happy with the result.
I believe in letting each team member lead in the area of their expertise, and being open to collaboration throughout the process.  I mean, that's why we go to school and work so hard to continually improve our skills, right?  Nobody is an expert at everything, but we all have a lot to offer a project.
L: How do you handle conflict when it arises, or, I guess, how do you open the door for good communication when you see that it's not working in a project?
J: I'll tell you, it's tough.  Especially when we get brought into a project later than we should be (which happens more than I would like, really), and the team is already assembled.  What we come up against is either a group that has rapport, and we're the new kid on the block, or we find that nobody has established respect for one another and the project feels choppy.
My answer is, honestly, to just be as transparent as possible, and encourage people to speak their minds.  I try to show that I respect their expertise and opinions, and hope that opens the door for reciprocation.  There is a time and place, not to mention tact, which ought to be considered when collaborating toward common vision, goals and in service of our mutual client.
If we're coming into a job where we haven't worked with someone before, I like to sit down with them and share our portfolios, and talk about our own interests, design style and philosophies to make that connection personal and get on the same page without the pressure of the work site.
Stay tuned for Part 3 of our interview – the landscape architecture design process.