It's hard to believe that just three weeks before California's "Shelter in Place Order" went into effect that thousands flocked for two straight weeks to the event. The desert sun warmed our bodies and filled our hearts whilst revealing our prior intense six months of work at what became recognized as the star of Modernism Week… the "Mesa Modern".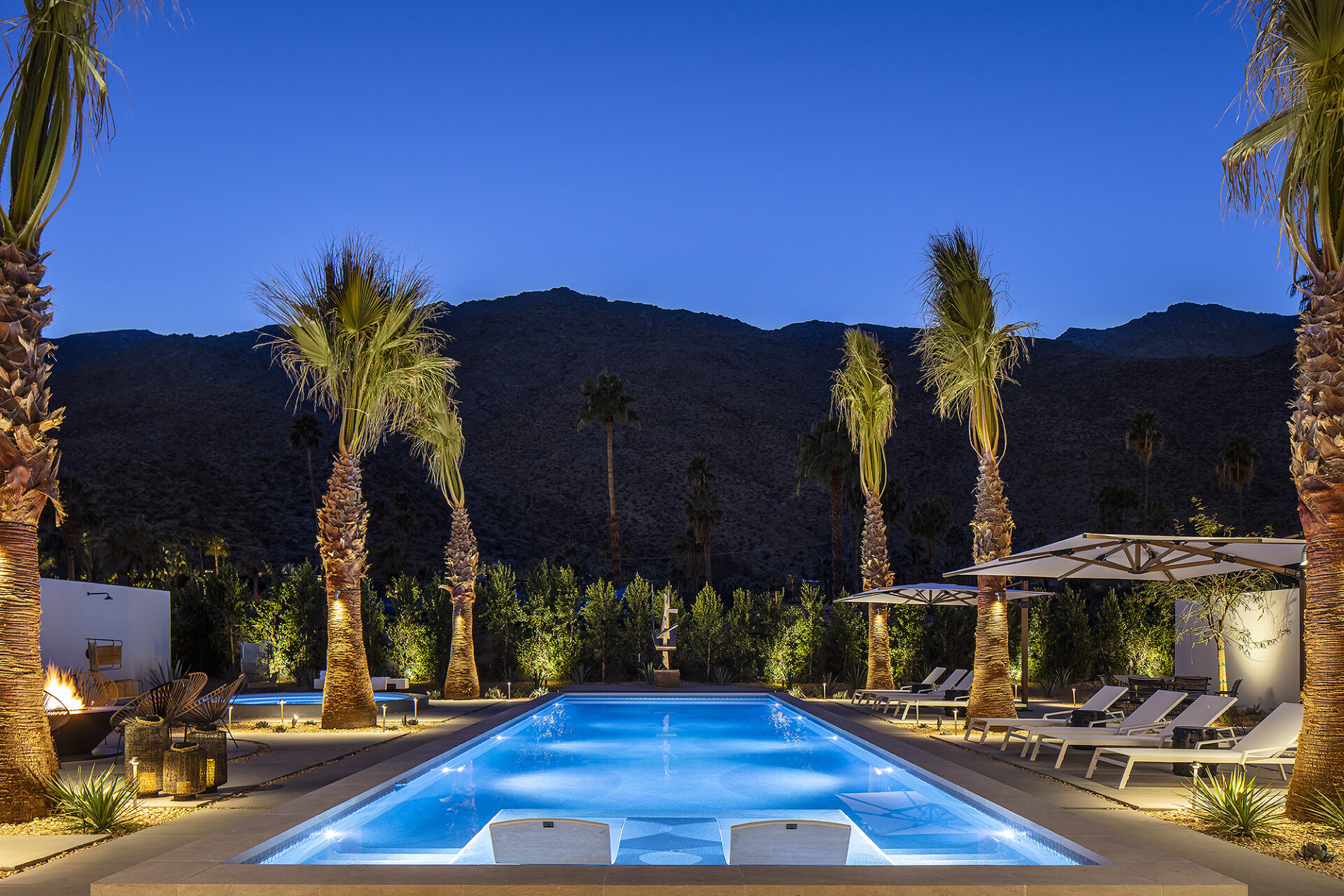 It seemed, then, as though our greatest concern then was if one morning's light precipitation would or would not detour scheduled ticket holders from attending that day's tours.
Now, we're at home sifting through design imagery and events of past, some of us with "Quarantinis" in hand while at virtual gatherings.
We enjoyed conversations each day with many hundreds of patrons of all things modern, the arts, gardens, fine interiors, furnishings, and architecture as we all strolled in a most unhurried way through our newly completed project.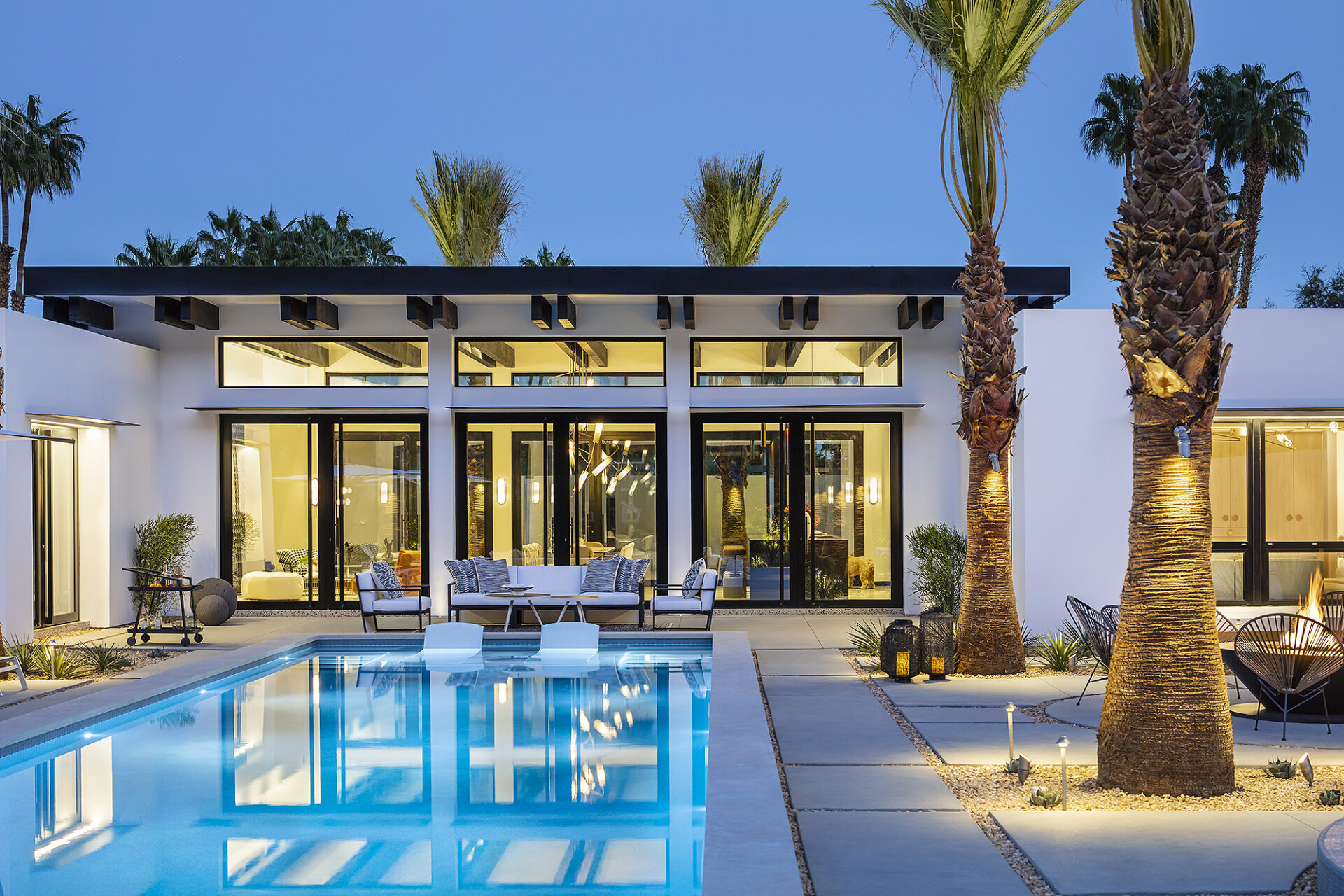 This "desert living" was a pace that as a native Angelino was unfamiliar and was growing on me quickly! Bocce' and poolside lounging by day, fire pits reflecting from the pool and bronze sculpture by night, this party scene was surreal as though we'd just opened the newest swank desert resort spa.
In addition to Modernism Week sponsored events at the home, it hosted daily private events and lively catered parties, panel discussions, industry sponsored educational tours, and more. To see so many people enjoying this private luxe residential space that we designed was a total thrill and reinforced the power of exterior environments that we create to completely transform not only space, but more importantly one's state of being!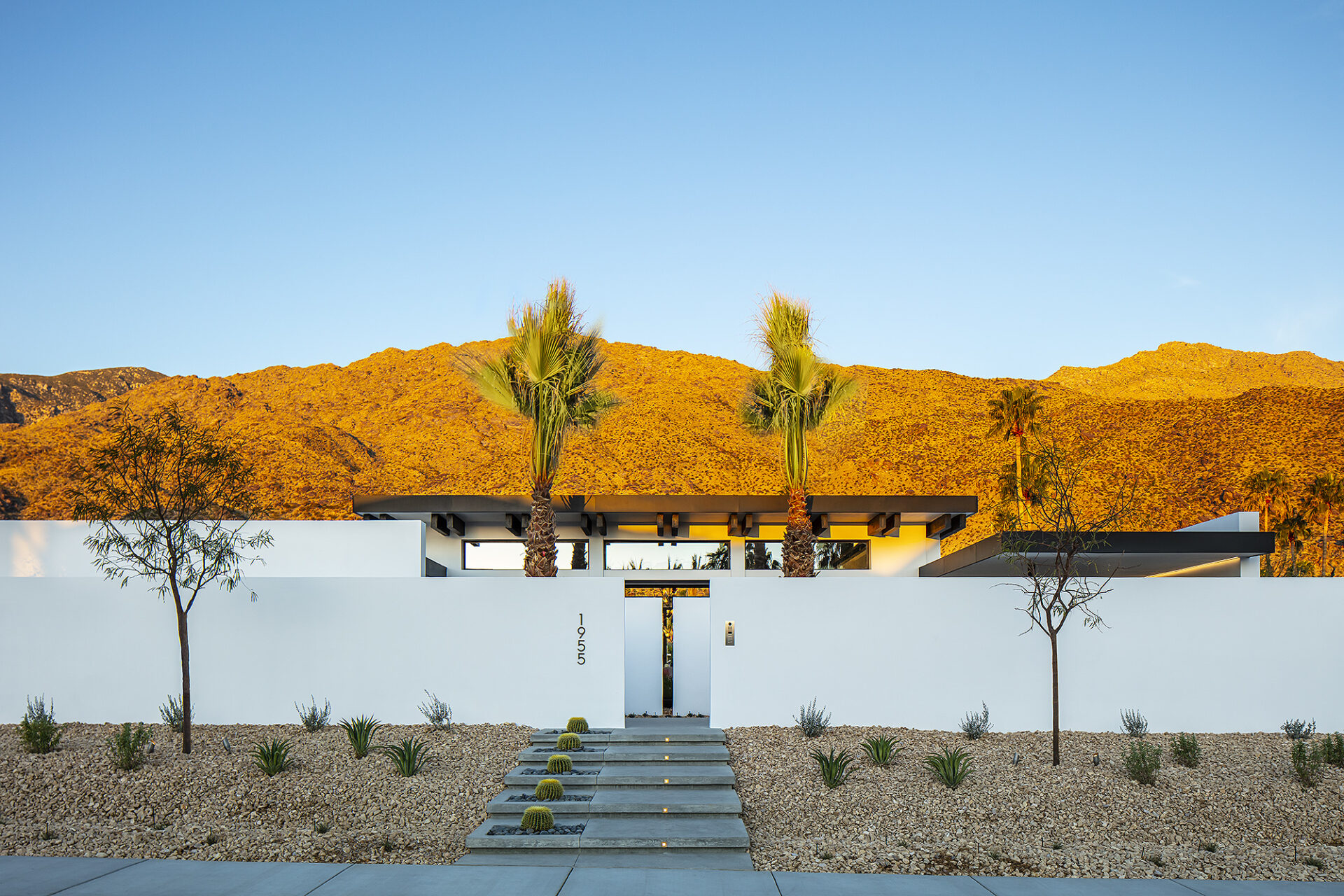 The house came alive through the extraordinary talents of a cohesive design team lead by our dear friend and colleague Karen Okner – the project's heroic Producer. We knew from first meeting what fun we'd have as part of her hand selected design posse.
Michelle Boudreau https://michelleboudreaudesign.com is the talented, stylish, and gracious Interior Designer that our work had evolved from and was anchored to. Our cohesive work is evidenced through the textural and volumetric nature of our exterior spaces balanced with the interiors. Our spaces effortlessly flow between each other for a quintessential in/out door So Cal living experience.
Our friends at Juniper House https://www.juniperhouse.com were wonderful collaborators and helped inform the function and sequence of the spaces we designed as they would ultimately adorn the entire site (and some of the interiors too) with their unique lines of furnishings and accessories.
I've forever been quick to say that our projects (and yours too!) are the creation of many hands. While anything but "movie magic" here, the site work did come together in record time thanks to the phenomenal artisanship and dedication of our construction Teams.
Dantor Construction built the stunning house and site walls, Rembrandt Pools & Spas built the exquisite pool and spa and hardscape, and EJM Landscape was instrumental in all things living / irrigated / lighted / and crunchy under foot (gravel folks), and so much more.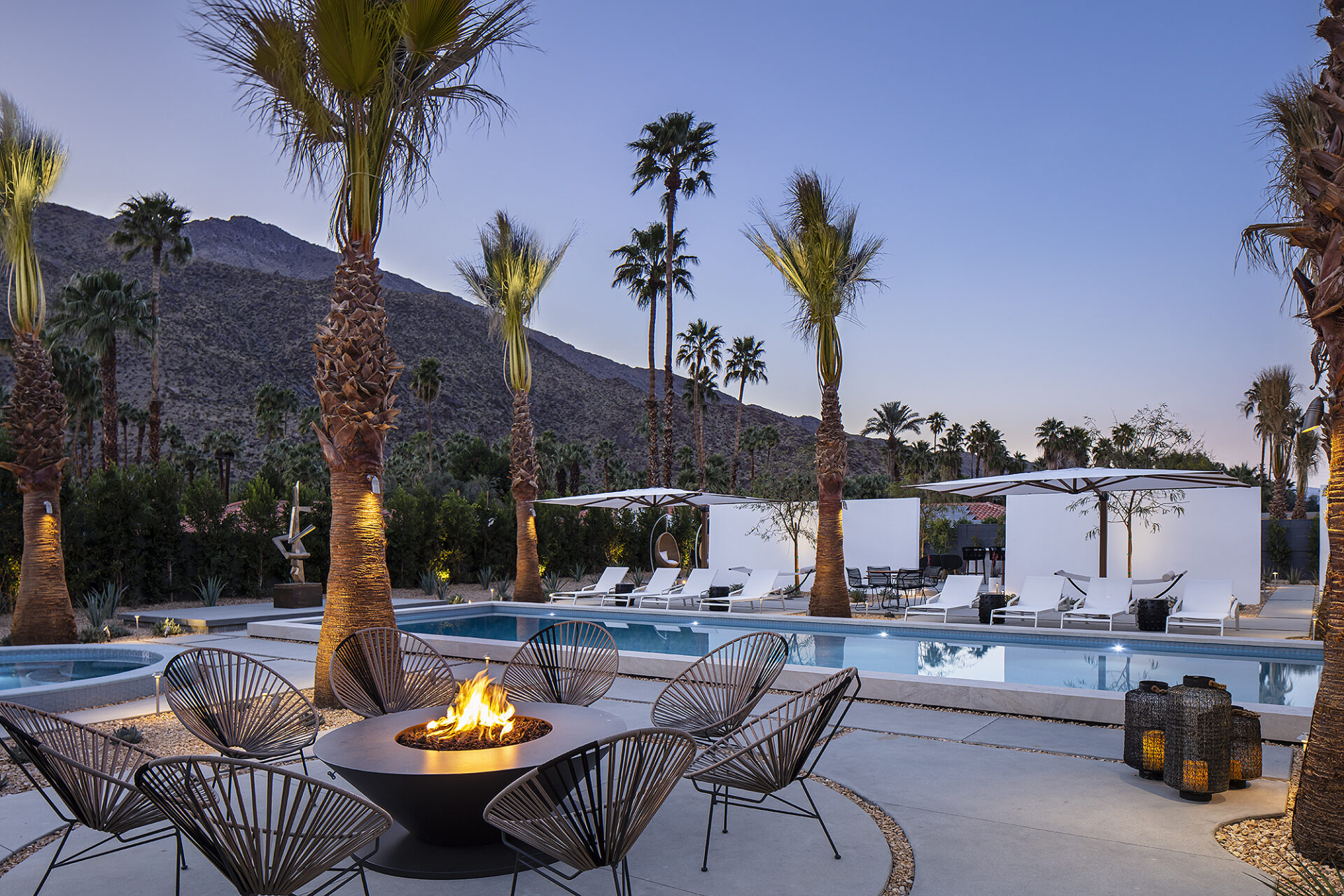 There were other contributions made that up-leveled this project! Our friends at Heather James Fine Art contributed spectacular art collections that were on display throughout the interiors and gardens. It is not our every project that displays art in the gardens so prominently, and these curated pieces became "scene stealers".
The Mesa Modern was equally alive and well utilized in the evenings as it was during the days. The importance of well-lighted landscapes cannot be under emphasized. Had it not been for the generous contribution of 170 fixtures by our friends at Best Quality Lighting, this project's dramatic lighting (let alone basic way finding) would not have been possible under the waning budget.
Did you not gasp like we did when you saw the "money shot" of this project? Who's jaw wouldn't drop when standing at one end of the 50-foot long reflective water body immediately backed by the ascending San Jacinto Mountains? Still, the pool and spa would not have been half as spectacular without a very generous donation of tile and of porcelain materials by our friends at Island Stone and at Stone Revolution. These collections made available to us intentionally resonate with the natural context of the region.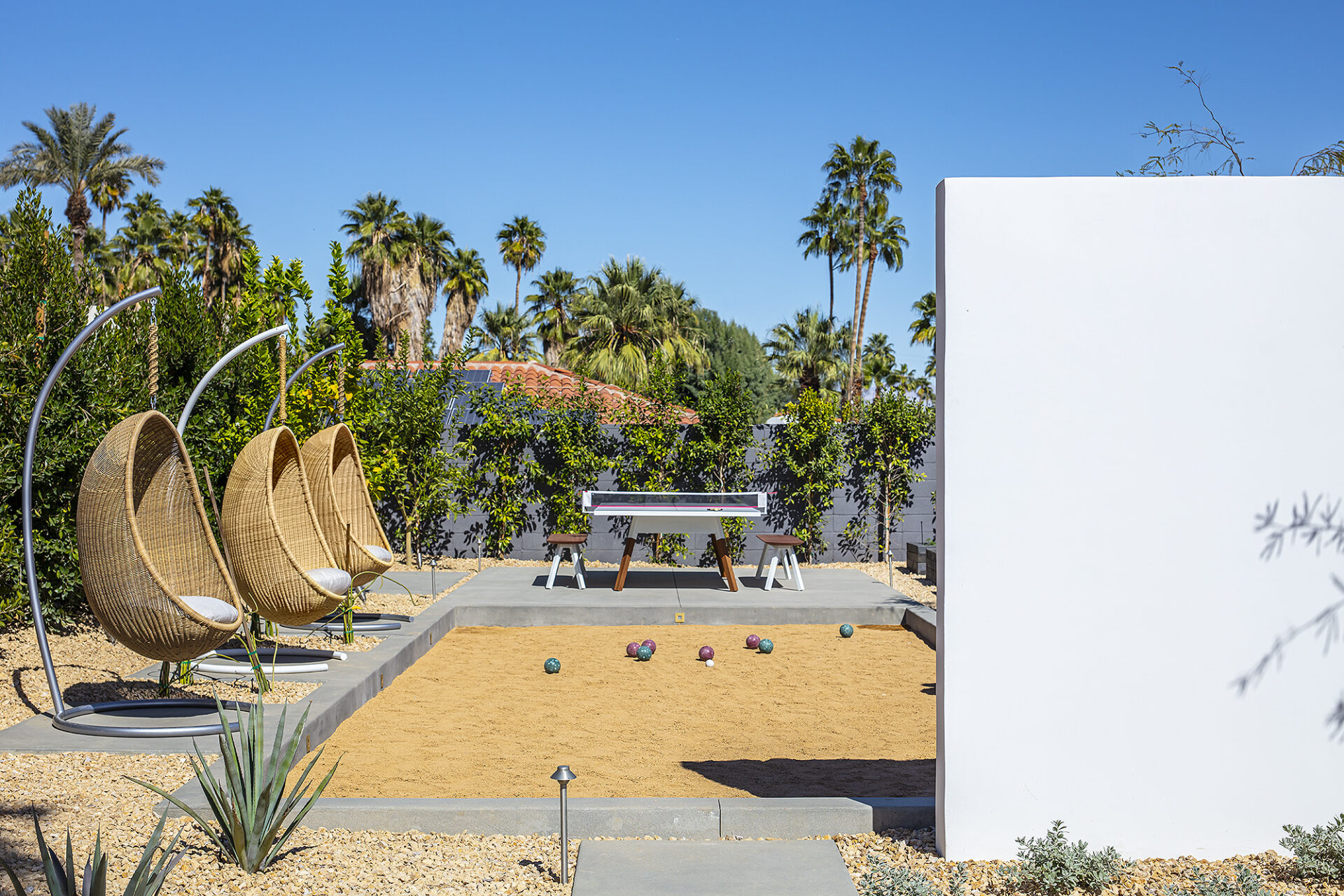 A huge thanks and debt of gratitude to our Ecocentrix Team for its great talents and enduring support through this entire experience without which our greatest and smallest achievements never happen.
Thank you Manolo Langis of Lango Works http://langoworks.com my friend and our very talented photographer without which this project's finest constructed aspects would never have been memorialized. This was the first design house that Ecocentrix had participated in.
While its "bones" will hopefully long be intact, there were a great many items on loan that made this project "perform" if even for a short run. For me, the experience was a little kin to organizing a "blow out wedding". Both require patience while prepping and planning, fawning over the littlest details, loads of carefully articulated communication and sometimes with kid gloves, taking stock in and enjoying the journey, budgeting and more budgeting.
Then, culmination of these grand efforts vanquishes in the blink of an eye and lives on through photographic impressions. We hope you enjoy our impressions and will share with others!