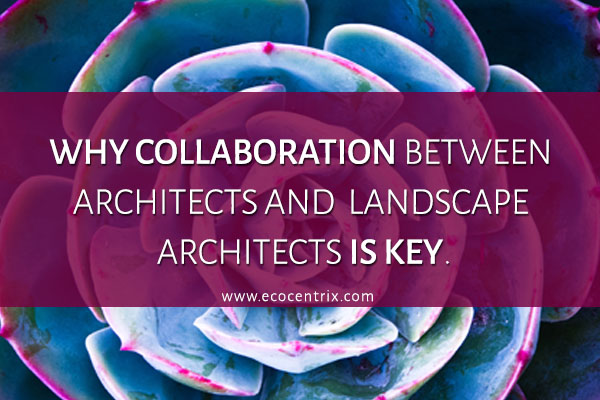 In a previous post titled 'Why should I hire a Landscape Architect?' we took a look at the specific value that a landscape architect brings to the table, and why they should be part of every major project.
The very phrase 'bring to the table' indicates a collaborative effort, which is a core part of the philosophy here at EcoCentrix.  We believe that multiple viewpoints and varied expertise creates a more dimensional, well-thought project with better results.
In the example of a landscape architect and architect working side by side, there are two major benefits:
1. The project will go more smoothly, because the architect can focus on what they do best, without getting mired in the details that landscape architects love (you know, like complex hillside grading).
2. Almost always, the overall landscape cost is lower with a landscape architect than without one. This is because landscape architects are specifically trained for detailed planning, and have the resources they need at their disposal.  This saves time and keeps communication clear, resulting in fewer changes or unnecessary expenses.  For a detailed look at the financial impact we have, check out this great blog post by our friends at Studio H. Architecture.
With important projects, it's crucial to build a team that works well together for a common goal.  At EcoCentrix Landscape Architecture, we are committed not only to high quality work on our end, but also to contributing our expertise in a way that supports the entire project team and client.