…How does one tame an ancient sand dune?!
Located within a short walk to the Pacific Ocean, this uncharacteristically large lot is one giant dune. The multi-faceted construction of the Power Street Project began with intense site work stemming from the retained terraces that navigate over 30-feet of elevation gain at its rear. For this complex engineering feat, we worked meticulously with our shoring engineer and structure engineers to allow for the tightest detailing possible.
Sea Salt and Santa Barbara Styles
The pool level hosts a sublime salt swimming pool and spa articulated by Santa Barbara rubble walls and Spanish tiles. We worked closely with Native Tile & Ceramics for our finest historical tile selections throughout the project, including a fabulous fountain dining court.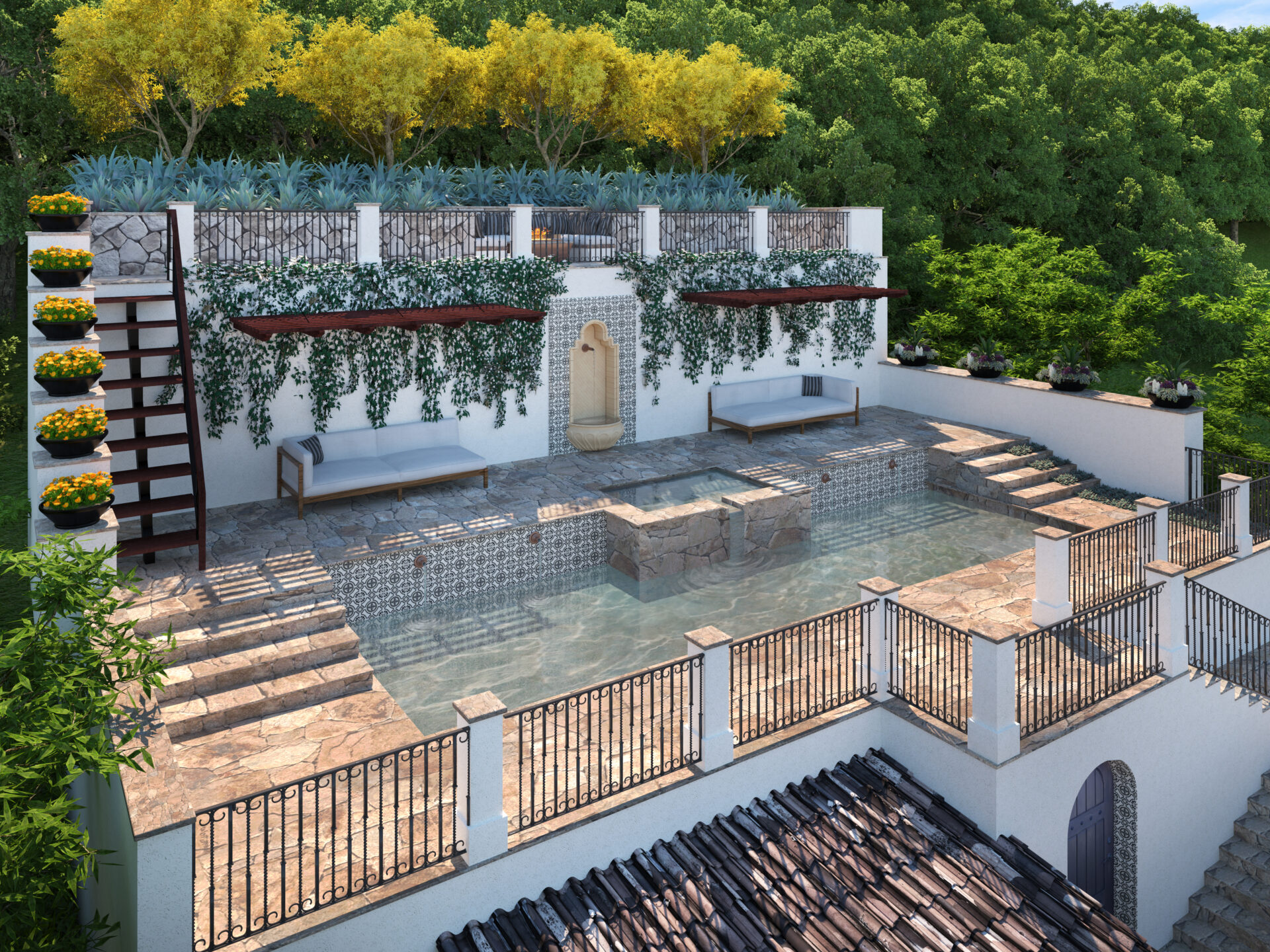 La Vida
We create more than captivating landscapes; we are in the business of cultivating life outdoors. We work to embody our Clients' vision, personality and desires to create an outdoor extension of their indoor lifestyle.
The Cantina level and stairway are richly defined by materials that harken to an early California Spanish vernacular. Tucked under the pool terrace is a bathroom, located ever so close to the margarita machine!
Elegance and Play
The Santa Barbara Colonial style house and garden are intended to elegantly, yet playfully, match the entertaining interests of these Clients. Its highest level, the orchard, is accessed via ladder constructed of tree boughs, which match the adjacent trellis construction.
Creating these complex designs is only half of the endeavor, we know we have truly accomplished our goal when we hear from Clients,
Ecocentrix did a fabulous job designing our outdoor space. [They] did a wonderful job in harmonizing all of the elements and making it appear that we have walked right into Pasadena in the 1920s.
From the bar to the built-in-bathroom, no detail was too small. We gave thorough attention to each intricate element of this seaside complex hillside estate.
Want to see more of how we put the architecture into landscape architecture? Check out our Lloydcrest Project