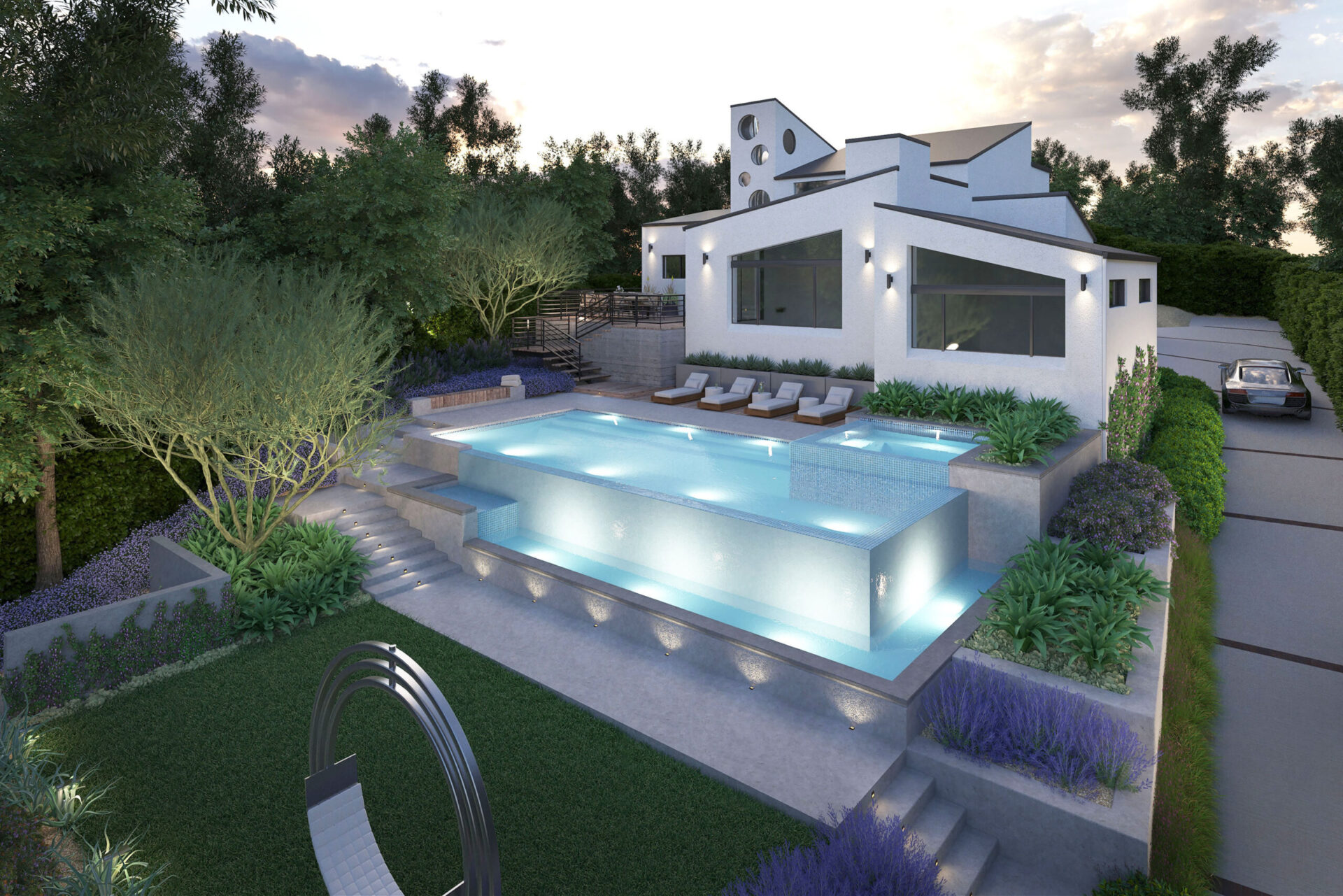 This secluded hillside property is located in the highly desired Monte Nido community, nestled between mountainous peaks between Calabasas and Malibu, California.
Our Clients came to us with a vision for an improved entertaining space with a cascading infinity pool highlighted as the most prominent feature. After studying the opportunities and constraints, we generated several iterations for the positioning of and transitioning between spaces. These renderings are the result of our collaboration and common vision with our Client.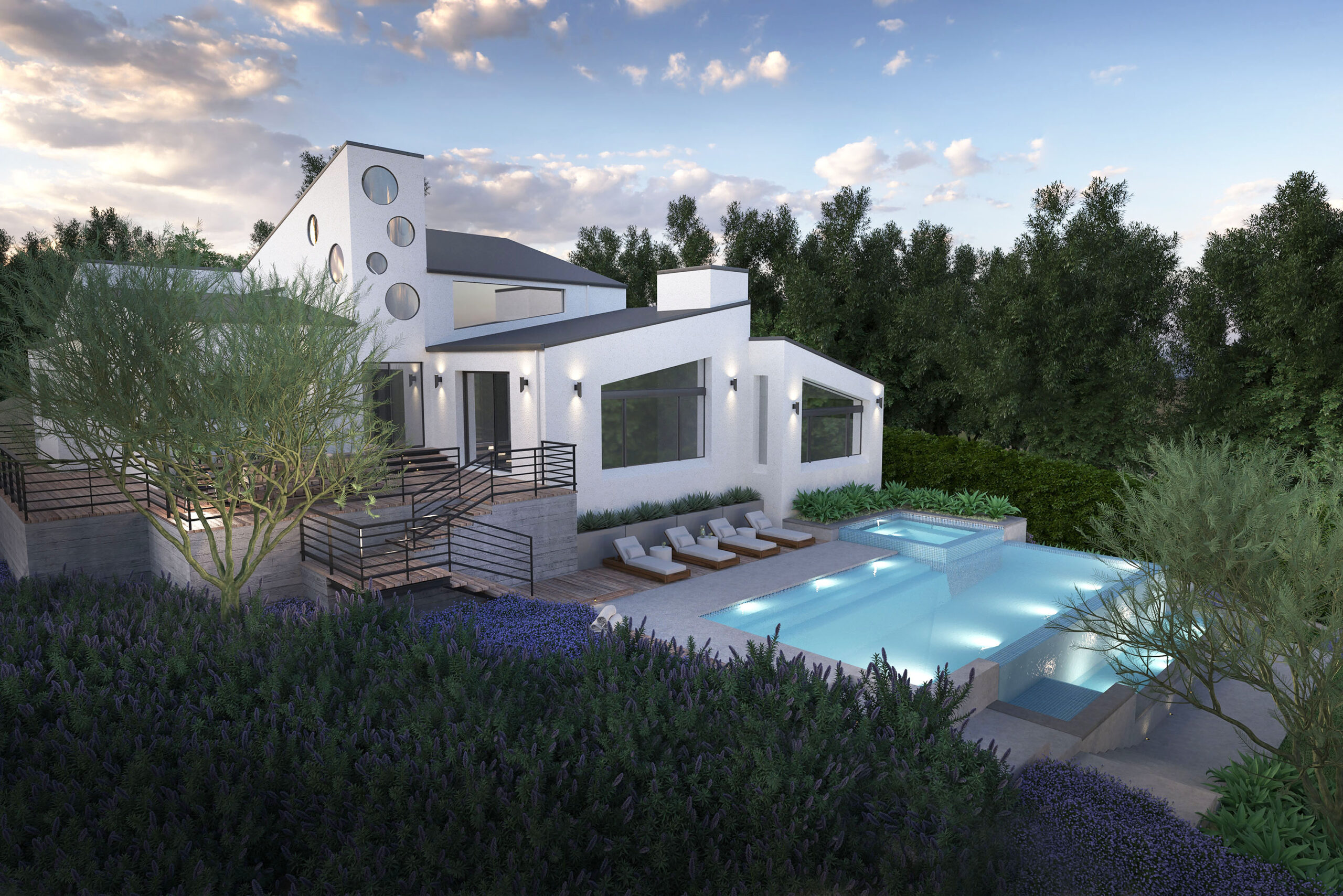 Our strongly architectural solutions explore contemporary-inspired stylings and living in the surrounds of rugged nature and stunning mountain views. It was important that our work took lead from the existing architecture, elevating both it and the playground that unfurls from it. New plantings will embrace the context of the surrounding Santa Monica Mountain chaparral, and pull these in to soften and embrace the new architectural landscape as though it was meant to share space with these organic materials.
Existing transitions between the house and underutilized areas are misaligned and ill-proportioned. They do not take best advantage of sight lines, and do not make great use of space.
We make traversable these connections between new usable areas, and with an approach that lends itself to future scope on several other downslope terraces of this property. That is what is so fun about this sequencing, it's like stranding pearls on an ever-expanding necklace.
We look at the borrowed view of the not-so-distant mountain peaks every bit as much as how best to lock our architectural features (such as decks, stairs, pool and spa, retaining walls and terraced adjacencies) with that of the home's existing architectural massing. We can't wait to capture the reflection of the mountain peak off the crystalline pool waters!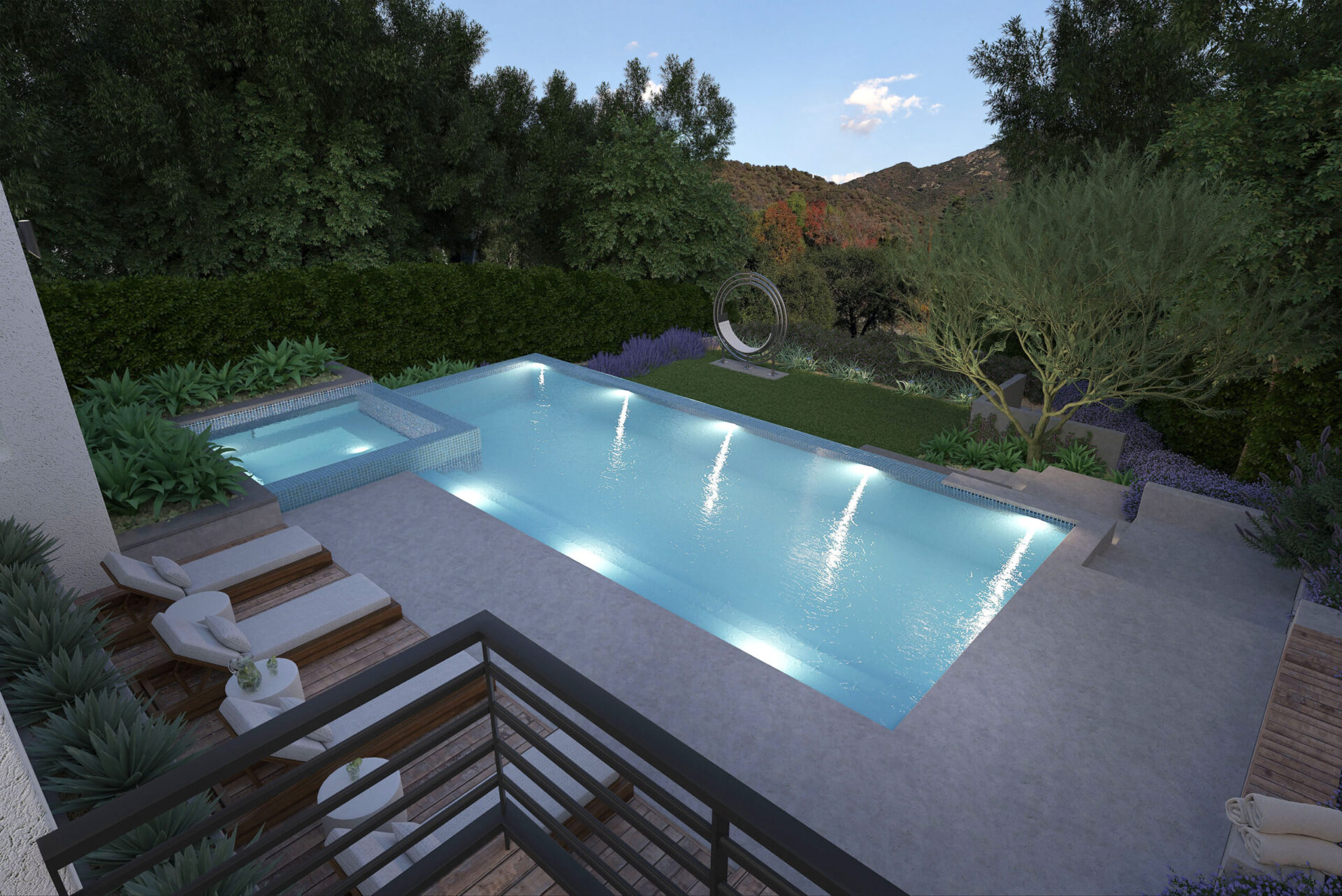 With bedrock high in the soil profile of the land that underlies this area, we'll literally be carving our way into some of the areas beneath the pool. It reminds me of being a kid again on fossil hunts in areas very near these growing up.  I can imagine our concrete work baring any of those finds – mostly ancient ocean deposits – that we may unearth during construction.
Although each project offers a unique blend of challenge and excitement, there is a special intricacy to complex hillside designs. We must meet the necessities of the architecture and infrastructure with the visions of our Client and our expertise of layout and organic materials to create a union drenched in functionality and beauty. And that is why we love Complex Hillside Designs such as Camino Colibri; the multiplex puzzles that we must simultaneously unweave and piece together to find the perfect balance between procedure and play.
Did you miss lass month's inside look into Ecocentrix? Check out the 15-Year Anniversary post here!